Practice Management Software
WESTMED is the premier reseller of the SSIMED Practice Management Software for the Western United States. Our Support Staff and Software Technicians work hand in hand with SSIMED to insure a smooth transition and installation. We also provide hosting services for turn key instant access to your new software without all the hardware hassles of purchasing and installing a new server.
Prepare to evolve.
The way we see it, it isn't a solution unless it can respond to change. That's why we use SSIMED Practice Manager™ ourselves every day. Fine-tuning and adapting it to meet future needs. We take your suggestions seriously. Today's version is the result of a Continual Improvement Initiative. Future releases will be, too. So get ready for innovation, advanced functionality and new product features. As your needs evolve, so should your software.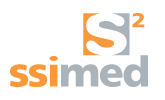 Technically together.
The SSIMED Practice Manager™ suite has you covered for most practice management tasks: Registration. Billing. Appointment scheduling. Collections. Electronic Remittance Advice. Ad Hoc data analysis and reporting. And more.
Totally flexible.
Name any clinical, reporting, accounting or hospital system in use today. Our applications interface with them all. And they're compatible with all industry standards for electronic data interchange (EDI) , including HL-7, ANSI, NSF and all formats specified by HIPAA.
Totally conversant.
Since our software is HL-7 compliant, it allows different systems to "talk" to each other in real-time, without any language barriers. So information can be swapped between systems, as long as both are HL-7 compliant. To find out more about HL-7, visit www.hl7.org .
Judged superior.
Through our relationship with Envoy (Web MD Transactional Services) we can provide you with transparent electronic claims processing. Our volume is one of the greatest in the Northeast. Our error rate is minuscule, less than 1%. SSIMED's performance earned Envoy Corporation's top vendor classification - Preferred Platinum. Our team has been equally successful outside of the Envoy network, submitting directly to carriers including Medicare, Medicaid, Blue Cross Blue Shield and Blue Care Family Plan.
Our company offers a virtually unlimited list of capabilities because of our vast corporate networking. Within our alliance are companies of all sizes. When it comes to our business, we offer our customers a powerful resource and a recipe for success.
| | | |
| --- | --- | --- |
| | | |
| Claims processing and routing. | Eligibility verification and claims status processing. | Tools to help insure accurate and compliant transaction coding. |